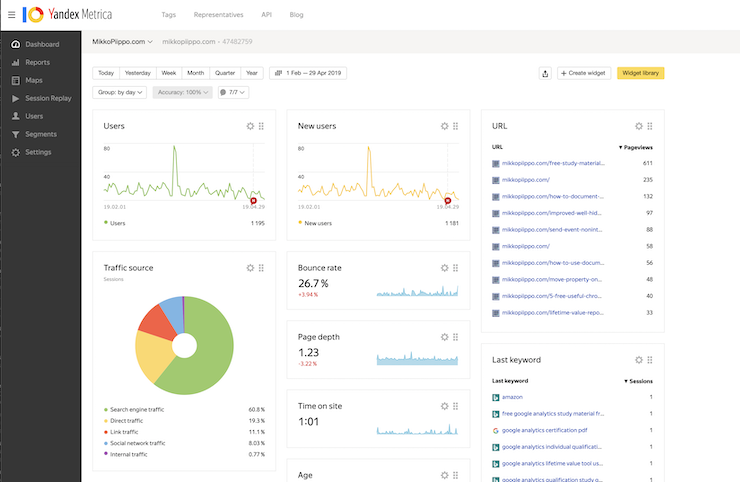 Yandex.Metrica is a web analytics tool mainly used by companies operating in Russia. It deserves to be better known outside Russia as it offers several features for which users of other analytics solutions pay extra.
In Finland, Yandex.Metrica is mostly used by companies advertising in Russian markets. This is understandable: If you advertise in Yandex, you should always use Yandex.Metrica for web and advertising analytics. However, Yandex.Metrica offers features for which users of other analytics solutions must pay extra. Free features of Yandex.Metrica include:
Session replay
Heat maps
Form analytics
Hit level data export
All standard web analytics features are included in addition to these.
Session replay – analyse website usage through a recording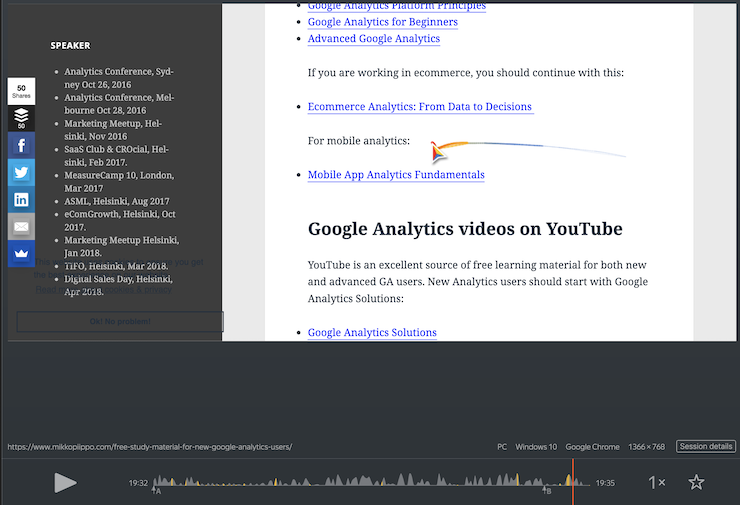 Session replay helps to identify usability problems and eliminate obstacles to buying. This is why high numbers of conversion optimisers have watched session replays provided by Hotjar in recent years. Yandex.Metrica includes a similar feature free for all. In a session replay, scrolls, mouse movements and clicks, and keystrokes used to fill in forms, are all recorded. Naturally, keystroke recording can be blocked to prevent the saving of personal data in Yandex' database.
Heat map – analyse clicks and scrolls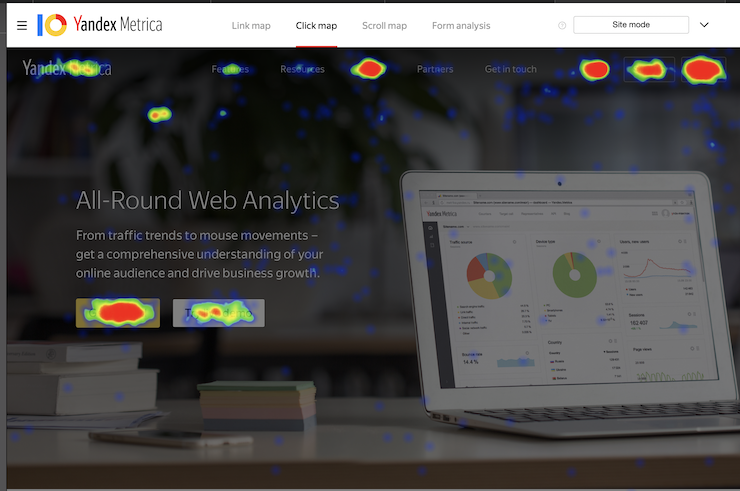 For example, as a default Google Analytics saves only data on clicks on links from one page to another. But users sometimes click on images and other elements that are not links. This is easiest to track using click and heat maps, which track mouse movements and clicks. In addition to clicks, you can track scrolls and find out how far downwards users scroll various pages. Yandex.Metrica offers analysts and marketers the click heat map familiar from Hotjar and CrazyEgg. The map collects data on clicks on every element, visualising them in various ways on a screenshot image. You can review clicks for each individual page or group of pages.
Form analytics
Forms are a bottleneck to conversion on many websites. However, without diverse event tracking, standard analytics software features are not sufficient for form tracking. That is why separate software is often used for form analytics purposes.
Yandex.Metrica facilitates easy analysis of form completion. Form reports reveal which parts of the form are not filled in and what caused conversion failure. These three features – session replay, click heat maps and form analytics – make Yandex.Metrica a formidable tool for conversion optimisation: you gain access to several Hotjar features without a separate licence.
Diverse API interfaces
Yandex also offers valuable features for users hoping to get more out of their data, and to analyse it using other tools. Various interfaces are available for this purpose:
The last is the most interesting: with Logs API, you can obtain hit level data from a database without sampling. As everyone knows, Google Analytics only offers this to users of the payable version.
Is Yandex.Metrica worth introducing?
Several factors influence the choice of analytics software. Issues such as users' skill levels and expertise should be considered in addition to platform features and pricing. Expertise and skills are vital. If analysts and marketers do not know how to use the platform, its features will remain untapped.
I currently use Yandex.Metrica selectively. I haven't advised my clients to switch from Google Analytics to Yandex, even if Yandex's features are years ahead of those offered by Google Analytics. However, Yandex is a useful addition to an analyst's toolkit, as its features are a perfect complement to Google Analytics.
Then again, if a company does large amounts of business in Russia (or other countries using Yandex), they have to know their way around Yandex. The easiest way to begin is by using a demo account.